Please select your delivery
Next Day
Mattresses
Mattress 02 - Hybrid Mattress
Like a softer feel when you sleep? Mattress 02's got you covered. Enjoy the best of both worlds with a lie-in worthy hybrid of soft foam and over 2000 micro springs. Experience a comfortable medium feel with Mattress 02, delivered to your door in just 24 hours. Best of all, it's rolled to fit through even the smallest of doorways.
Want something a little firmer?
We hear you. If you're after a little less bounce, check out Mattress 01. Still putting comfort at the forefront, Mattress 01's made entirely of cleverly layered memory foam with no springs, for the highest level of lumbar support. Arriving to you rolled in just 24 hours, this one's ready to snooze on in no time.
Mattress 01 - Memory foam
Medium Soft Hybrid Mattresses
Why compromise? Calling all side and front sleepers. Snooze on a combination of micro-springs and soft memory foam layers that guarantee a good night's sleep, no matter what. When you need to move things around, Mattress 02's fabric handles make light work of rearranging your room.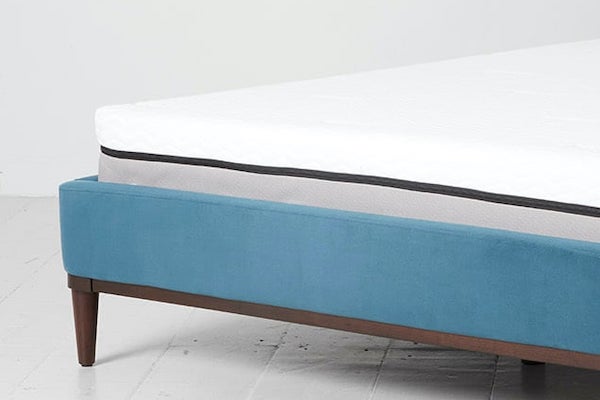 Hybrid Memory Foam Mattresses' Delivered in 24 Hours
Need a hybrid memory foam mattress delivered fast? We've got you. Order Mattress 02 and get 24-hour delivery as standard.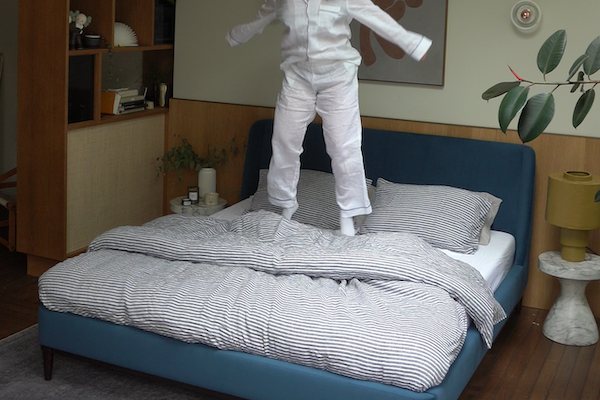 Free 24 hour
delivery
Delivered when
you want
100 day
trial
Hybrid Mattress FAQs
Want to know more about Mattress 02 and hybrid mattresses in general? Check out our FAQ's below.
What is a hybrid mattress?

Becoming increasingly popular, hybrid mattresses combine two different styles of support, with the most common being a mixture of foam and springs. Read our blog to find out which mattress is best for you.

What are the pros and cons of a hybrid mattress?

Hybrid mattresses are a great way of enjoying the softer bounce of springs, whilst still getting enough back support through a comfortable foam layer. The extra give in a hybrid mattress however makes them potentially unsuitable for those who need the highest level of lumbar support. For this, it's recommended to look into a 100% foam option instead.

Can you flip a hybrid mattress?

You shouldn't flip a hybrid mattress. Most hybrid mattresses are made with a soft foam layer on top, meaning they must be used the correct way up for optimal support and comfort.

How long do hybrid mattresses last?

If looked after correctly, your hybrid mattress should last around 10 years. For the best chance at a great night's sleep and to account for wear, you should change your mattress every 8-10 years.

Do hybrid mattresses get softer?

All mattresses get a little softer over many years of wear, especially if being used by more than one person. Hybrid mattresses tend to hold up longer than mattresses made entirely with springs, as the weight is more evenly distributed thanks to the top foam layer.