Please select your delivery
Next Day
Mattresses
Mattress 01 - Memory Foam Mattress
Fan of a firmer feel? Mattress 01's memory foam layers guarantee a restful night's sleep. Perfect for side and back sleepers, Mattress 01 provides just the right level of bounce. Graphite-infused foam keeps the temperature just right, throughout the whole night. All of our mattresses are delivered in as little as 24 hours, so you can get snoozing sooner.
Want something a little softer?
Don't sweat it. If you're looking for that signature squish, check out Mattress 02. Here, get the best of both in a combination of graphite-infused supportive foam and hundreds of micro-springs that offer a little more give - ideal for front and side sleepers. Snooze away on cloud-like comfort, delivered in as little as only 24 hours.
Mattress 02 - Hybrid Mattress
Firm Memory Foam Mattresses
If firm support's top of the agenda, check out Mattress 01. Wake up feeling refreshed thanks to body-contouring, graphite-infused memory foam that bounces back. Mattress 01 is perfect for side and back sleepers, for a seriously comfortable sleep that helps reduce motion transfer throughout the night.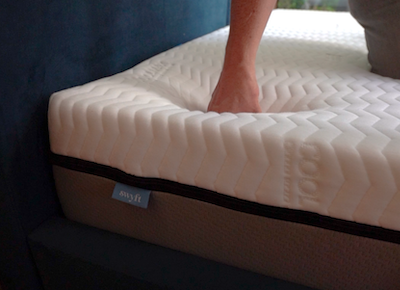 Memory Foam Mattresses with Next Day Delivery
Need a foam mattress next-day? Spend less time stressing and more time snoozing with Mattress 01. Order yours today and get delivery as early as tomorrow. Yes, it really is that easy.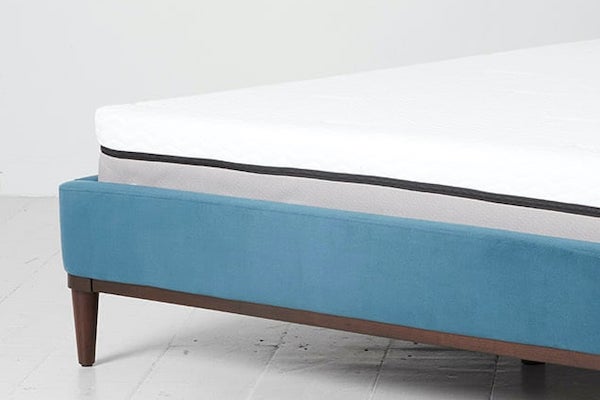 Free 24 hour
delivery
Delivered when
you want
100 day
trial
Memory Foam Mattress FAQs
Want to know more about memory foam mattresses? Check out our FAQ's below.
Is memory foam a good option for mattresses?

Yes! When choosing a mattress you want to look for something supportive, that's comfortable at the same time. Memory foam is a great no-compromise option for somewhere to sleep that leaves you feeling well-rested every time.

What are the disadvantages of memory foam mattress?

The wrong type of memory foam can be too warm for some. If this is the case but you still want a firmer feel, opting for a graphite-infused memory foam mattress like the Mattress 01 ensures the temperature stays just right. Sorted.

How long does memory foam mattress last?

With the right care, you can expect your memory foam mattress to last between 10 and 15 years. As a general rule, the advice is to change your mattress every 8-10 years, making the longevity of memory foam a good option for cost-savvy sleepers.

Should you flip a memory foam mattress?

There's no need to flip a memory foam mattress. Most memory foam layers are specially designed to work together to support your body as you sleep. If you share the bed with someone else or tend to sleep on one side, you should rotate the mattress once per year. This allows more even wear across the whole memory foam mattress and reduces the chance of natural dips happening.

Is memory foam good for your back?

In short- yes. Memory foam's firm feel provides the best support for the lumbar region - another word for your lower back area. Making sure this area is adequately supported is essential for maintaining posture and reducing the chance of aches and pains upon waking.