Armchair
Chaise Longue
Love Seat
Please select your fabric
Chenille
Royal Velvet
Velvet
Please select your delivery
Next Day
Made to Order
Model 01
Model 02
Model 05
Model 06
Model 07
Red Armchairs
A red armchair promises to stand-out and create a focal point in any room. Our red armchair collection comes in harissa and burgundy across our chenille and velvet fabrics. The fabrics are part of our Made to Order offering, which means any one of our red armchair designs will delivered in a matter of days.
Red velvet armchairs or deep pile chenille?
Our red velvet armchairs are bold yet ever-so soft. Velvet is a timeless fabric which has stood the test of time and promises to add interest to a room. It's a statement piece. That being said, a deep pile chenille armchair is an ever-increasingly popular alternative to velvet. Chenille is a soft textured fabric, promoting a natural look and feel. The harissa red is a subtle yet beautiful colour that will add a balanced element to your room. To help decide, order a free swatch box by clicking the link below.
Order your free Swatches
Red accent chairs for any room
Our collection of red accent chairs are bold in colour and bold in style. The designs are subtle yet confident, poised to add a statement into any interior.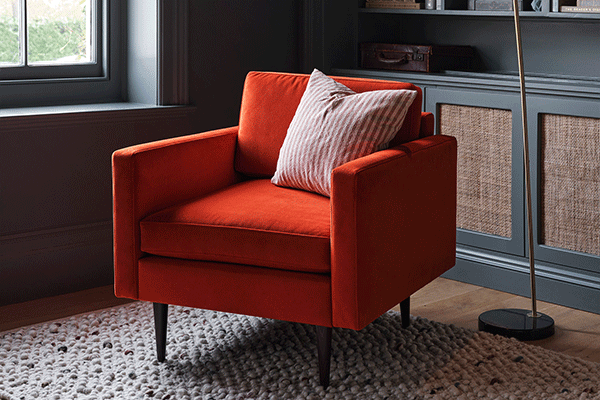 Red Loveseats
Our red loveseats are perfect for those who want a single seat, plus some. The loveseats are slightly larger than our armchairs, so they will make an incredible piece for any interior. Like the red armchairs, our red loveseats come in a versatile range of styles. There is one design for every home.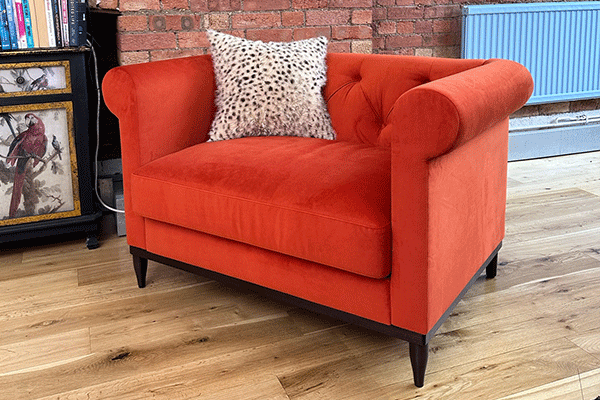 Free 24 hour
delivery
Delivered when
you want
100 day
trial
Red Armchair FAQs
Everything you need to know about Red Armchairs
What colors go with red chairs?

Red is a bold colour, so the key is to balance with colours that complement. To create a timeless look, pair with neutral home decor. If you want to head down the maximalist route, add different shades of red. This might also create an elegant feel to the room. Coupling a red accent chair with earthy, natural colours will make for an inviting and warm environment. Touches of green could also work because the two colours complement each other well.

What's the best shade of red for home furnishings?

Personal preference plays a huge role here, but typically we'd say burgundy. Burgandy's deep red nature shouts sophistication which would work well in a traditional setting. Eclectic interiors would look great with a Ruby due to its intense boldness. Whereas, a coral shade exudes warmth so would do well in a neutral setting. Harassia also follows a similar colourway, due its earthy tones.

Is a red armchair too bold for my home?

Not at all. Firstly, it depends what you're pairing the red armchair with. If you don't want a bold interior then couple red with neutrals or a black and white colour scheme. Red is not too bold if the rest of the colour scheme is toned down. A red velvet armchair could be a beautiful statement piece in an otherwise neutral environment.

Will a red armchair show dirt easily?

Red is known to show dirt more than its lighter or darker companions. It's a bold colour that highlights stains easily, fact. Dust is also more visible on a red armchair. However, with regular upkeep and simple maintenance this can be avoided. The darker shade of red, the less dirt appears. Burgundy, for example, will hold up well against dust or dirt marks.

How will a red armchair coordinate with my other furniture?

This really depends on what furniture you're pairing with the red armchair. Lighter, neutral coloured furniture will work as a beautiful canvas for a bold red armchair. Green is a complementary colour, so using plants and small accessories throughout would work well. Assess the furniture balance in the room, the arrangement and combinations - moving furniture items around could greatly benefit the feng shui.