Please select your fabric
Boucle
Chenille
Cotton
Eco Recycled Velvet
Faux Leather
House Linen
Linen
Mottled Velvet
Royal Velvet
Suede
Velvet
Wool
Please select your colour
Black
Blue
Brown
Cream
Green
Grey
Orange
Pink
Red
White
Yellow
Please select your delivery
Made to Order
Model 05
Model 09
Love Seats - Room for Two
Take some time to sit back and relax. Our loveseat is the equivalent of a 1.5 seater sofa, so there's plenty of room for either solo sitting, or couple cuddling. Bursting with personality, this pint-sized perch is ideal for reading corners or smaller spaces where you still want to make an interior style statement.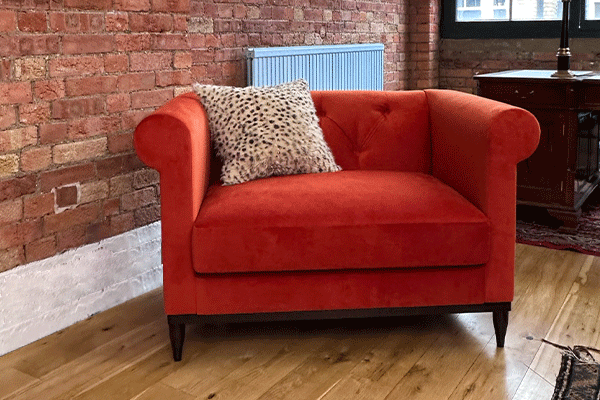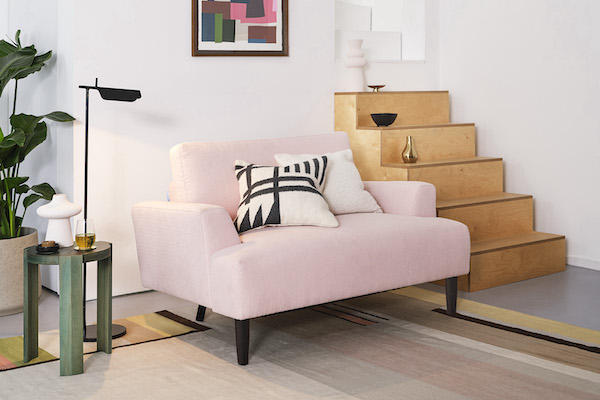 Need help deciding?
Choose your perfect shade of loveseat with head-turning fabric colours. In your living room, the choice is yours. Add a splash of bright, bold colour or keep things calm with neutrals on our loveseats. Order a free fabric swatch box now, to get started with designing your dream space.
Order your free swatch box today
Love Seat with chaise
Get your feet up and sit back on a loveseat with an added chaise. Stretch out solo or share with someone. Choose a matching fabric chaise or dare to contrast it with a totally different colour. Either way, comfort's guaranteed.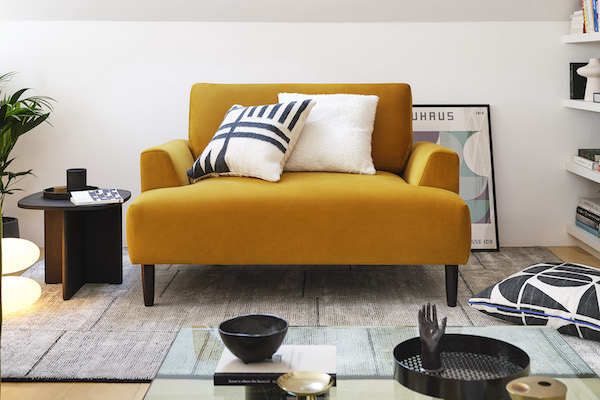 Love Seats delivered in 24 hours
Don't wait to get your loveseat. Order today and enjoy tomorrow, with next day delivery at Swyft. With 1.5 seats you could be cuddling up, or stretching out sooner than you think.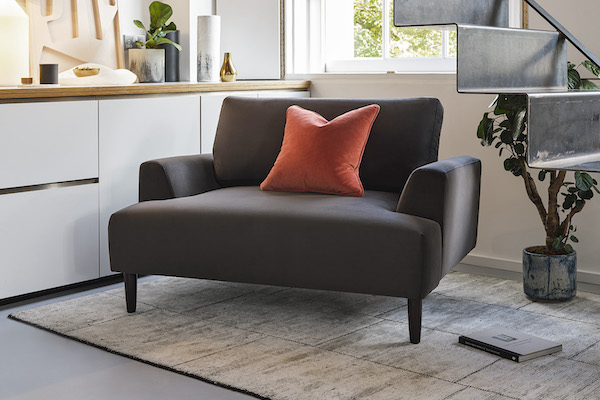 Free 24 hour
delivery
Delivered when
you want
100 day
trial
Love Seat sofa FAQs
Have a few more questions before you snuggle up on your new loveseat sofa? See if our FAQs can help
Why are they called loveseats?

Changing over time, the term "loveseat" has always been associated with a smaller sofa, made for couples to cuddle up on. Originally loveseats were an "S" shape, where couples could sit facing each other - the perfect design for conversation and socialising.

Can 2 people sit on a loveseat?

Yes, loveseats are the perfect sofa option for two people. It's worth keeping in mind that a loveseat is typically 1.5 seats wide, making it a better option for couples, families, and close friends to share.

What is the normal size of a loveseat?

Most loveseats range from between 120 and 140cm wide, with the same depths as any other full-sized sofas. Swyft loveseat sofas sit right in the middle, at an ideal 125cm wide.

Does your loveseat need to match your sofa?

Matching is a totally personal choice, but if you already love your sofa colour and want to highlight those hues even further, match away. Alternatively, a contrasting loveseat can offer a new and exciting focal point to your living room, making a bolder design statement. Order your free fabric swatch to start experimenting with loveseat looks. Read our guide on how to mix and match sofas and chairs.

Can I really have my loveseat the next day?

Yes! At Swyft, we deliver loveseats within just 24 hours. There's no waiting around here - get your loveseat delivered next-day and enjoy lounging sooner.