Armchair
Chaise Longue
Love Seat
Please select your delivery
Made to Order
Model 01
Model 02
Model 05
Model 07
Yellow armchairs
Add a pop of colour to your living room by choosing a yellow armchair. Create your own contrasting interior look with a yellow lounge chair to be proud of.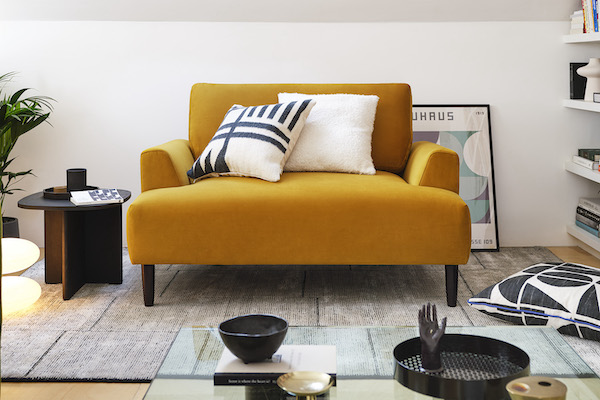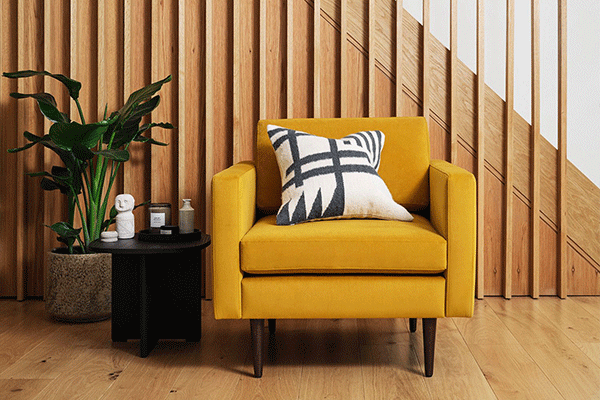 Go bolder with Yellow sofas
Go big or go home. For an even more impactful look, explore our range of yellow sofas. Find a style and shade that suits you and your home.
Yellow Sofas
Make a bold statement with mustard yellow armchairs
We see you, colour lovers. Mustard armchairs are the must-have for those who love all-things bold. Despite their stand-out shade, Mustard yellow armchairs are pretty versatile when it comes to colour combinations. Your living room, your rules.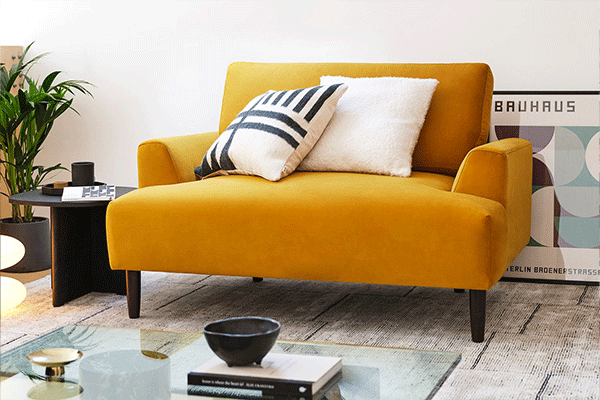 Yellow lounge chairs to boost your living room
Face a yellow armchair towards your main sofa to create a conversational style layout. If you've got a fireplace or other central feature, try two mustard accent chairs on either side, for cosier catch-ups with friends and family.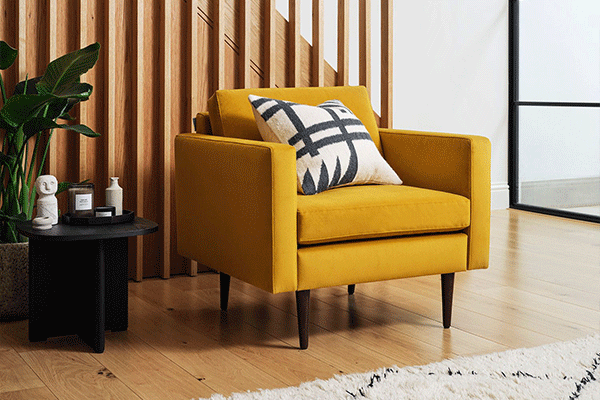 Free 24 hour
delivery
Delivered when
you want
100 day
trial
Yellow Armchairs FAQs
Here's what you need to know about yellow chairs.
What goes with yellow accent chairs?

Yellow is a surprisingly versatile colour for accent chairs. For a retro 70's look, try deep browns, oranges and rich reds. If light and bright is more your bag, try pairing your yellow accent chair with pastel colours for a spring-inspired look.

Is yellow a good accent colour?

Yellow makes a great accent colour for furniture, especially in yellow accent chairs and wall art. This bright and sunny shade creates feelings of happiness - perfect for the home.

What colour sofa goes with yellow chairs?

Pair yellow chairs with sofas in dark greys, black, blues, reds or browns. This creates the best effect that lets yellow accent chairs take centre stage.

Do grey and yellow go together?

Yes - grey and yellow is a tried-and-tested favourite colour combination with interior designers. Try it out in your home with dark graphite grey or a more subtle fog grey.

Which colour works best with mustard yellow?

As a general rule of thumb, it's best to pair mustard yellow with darker shades. These could be cooler in tone like blues and greys, or warmer colours like brown, red and beige.