Refurbished Model
05 3 Seater
Check your eligibility
Fast check - won't affect your credit rating.
x
Add accidental damage cover
5 year protection against:
Accidental damage including:
Rips, tears and burns
Pets biting and chewing (one off incident, not as a result of a build-up)
Accidental stains including:
Red wine
Ink
Paint
Find out more
5 years cover
from only £60
You can add accidental
damage in the checkout
Key features
Front legs: Solid wood with wenge finish; Back legs: Metal with black powder coat finish
Double-sided sandwich back cushions; fibre core between 2 layers of foam, with a fibre wrap
Contemporary, minimalist style
Foam fixed seat, with zig-zag springs
SWYFT-LOK™fastening technology for quick, easy installation without the need for tools.
The Model 05 is designed to follow Swyft's contemporary and minimalist style, but with a few simple differences. The 3 seat uses zig zag springs to create a domed, curved shape. The dome exaggerates that sinking feel and provides the illusion of a deeper seat. The back comes with a 10 degree angle, so when you sit back on the sofa it swallows you up. The angle requires more back support, so it comes with bigger back cushions to help with this.
Stain resistant fabrics
Our fabric is durable and resilient. It features industry leading stain free technology, which makes it kid and pet friendly. Rather than coating our linen and velvet fabrics with a stain repellant, each one of the threads in our fabric is stain resistant. We can't stop your friend from spilling wine on your sofa or your kids from smearing chocolate on the seats, but clean-up is as easy as wiping the stain with a wet cloth.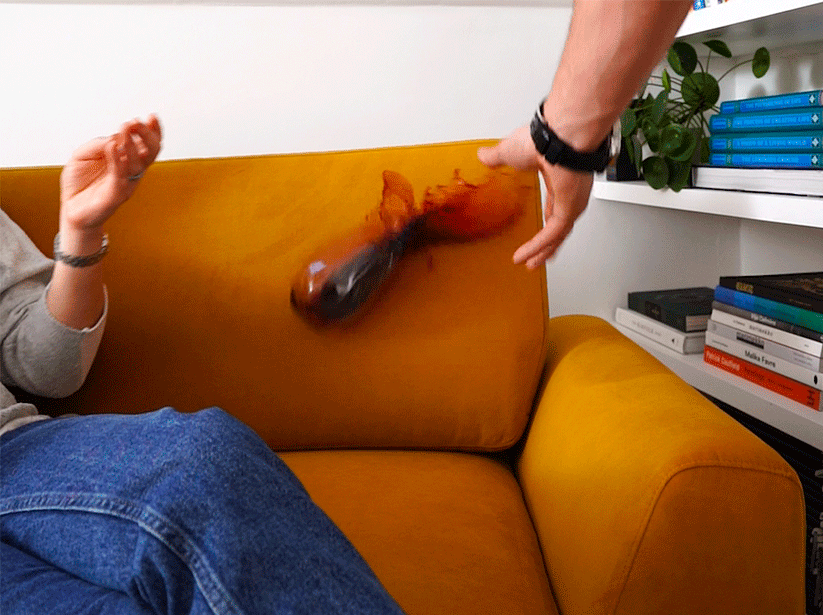 Delivered in a box
To make life easy for you, all our products are delivered in easy to manage boxes. Nothing is more frustrating than having to squeeze a sofa through tight entranceways and through hallways, which is why each sofa is delivered in boxes and guaranteed to fit. "PIVOT", no more. No one should have to wait for a sofa, which is why we deliver in 24 hours – book before 2pm for next day delivery. You can also book your preferred delivery date Monday to Saturday up to 3 weeks in advance.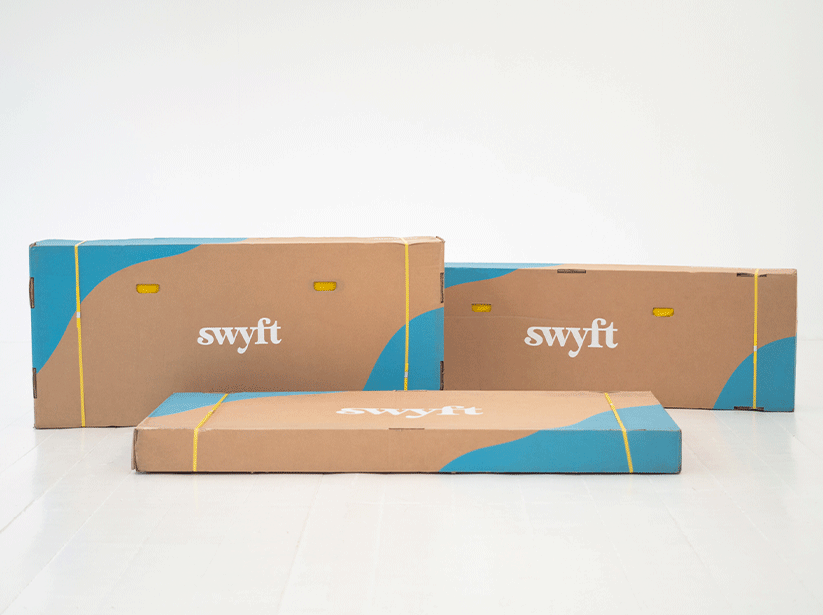 Sofa removal
Official Swyft sofa and packaging recycling partner. Clearabee provide an affordable, convenient and environmentally friendly sofa removal service. Book online for on demand collection. Starting from £34.99.
View Clearabee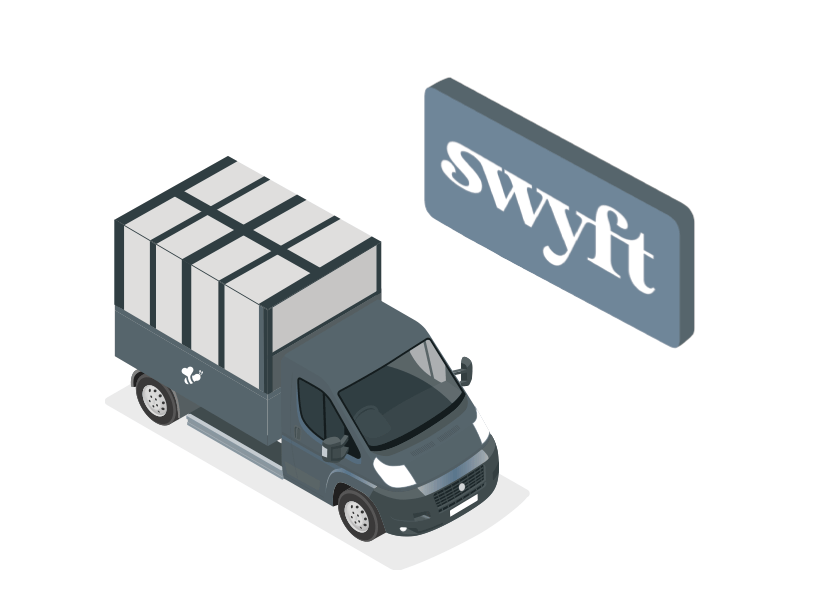 Need a helping hand?
Request a swatch box and you'll be one step closer to owning your very own slice of perfection. Go on, it's time to treat yourself.
Order your free swatch box today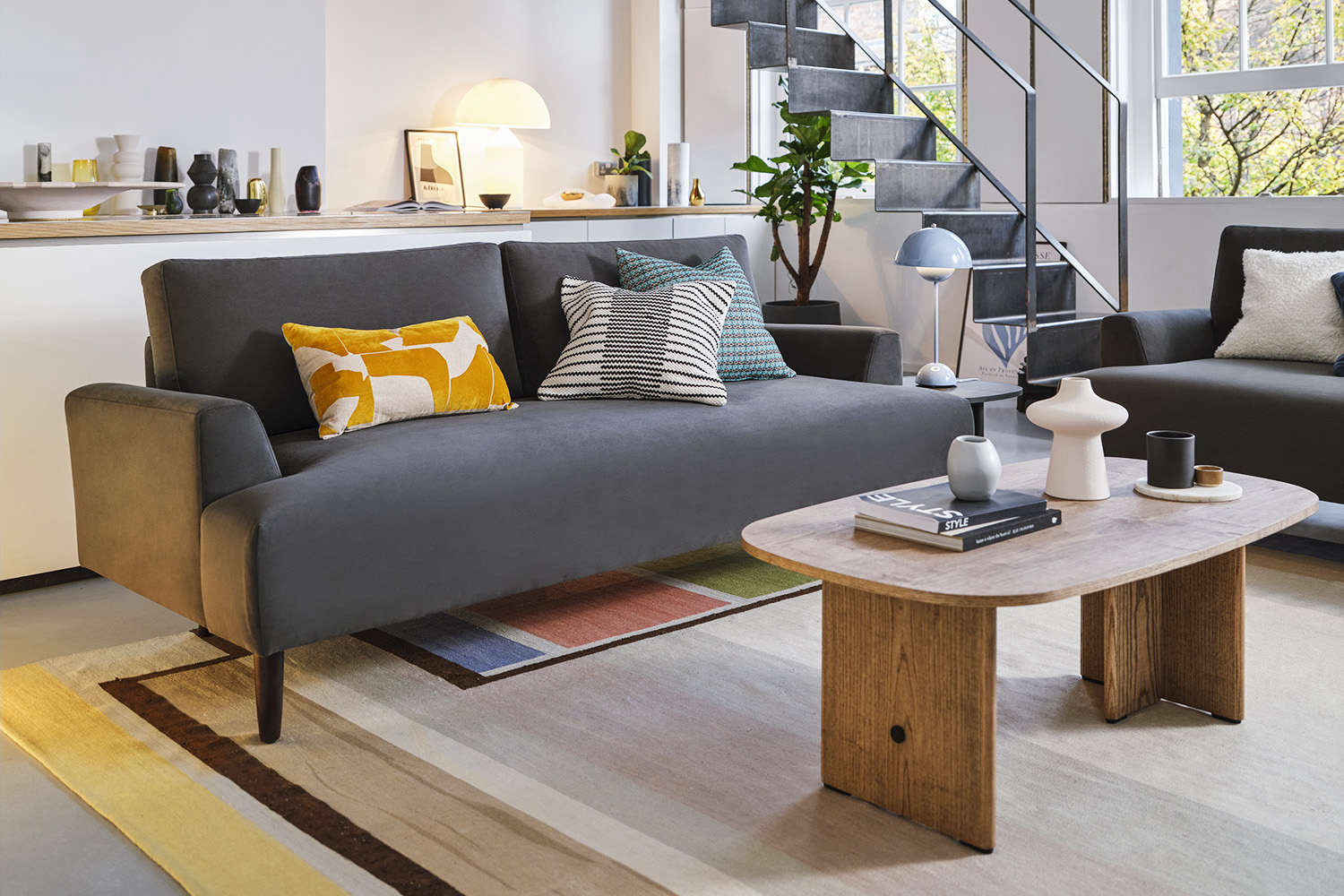 Model 05
Shop the Collection

Dimensions
Height: 83cm
Width: 200cm
Arm height: 57cm
Depth: 91cm
Seat height: 45cm
Materials:
The frame is made from traceable, sustainable solid beech and poplar plywood. The front legs are built from solid beech with wenge finish, and the back legs are metal with black powder coat finish. The back cushion is high-density, dual layered foam and polyester with the fixed seat made from zig-zag spring, foam and polyester.